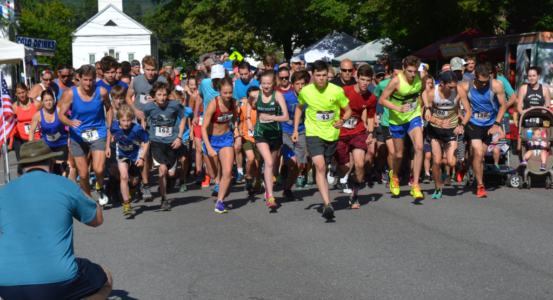 2020 Virtual Edition
With the Saxtons River Fourth of July canceled for 2020 due to COVID19 concerns this years race will be virtual. Run the course anytime before end of day on July 5, time yourself and record your results on the form linked below. To provide further evidence of your accomplishment post your Strava, Garmin, etc. data on the Saxtons River Fourth of July Facebook page along with any photos or other musings. There's no entry fee this year and no prizes so you are doing this for bragging rights only. Come back after July 5 to see the official results or check back anytime to see how you are doing. Feel free to run more than once and see if you can move up the leader board.
Race Course
If you've never run before, use the Map My Run course below along with these instructions to find your way.
The race starts on Main Street, even with the telephone pole on the Saxtons River Inn side of Academy Avenue, 30 feet west of the cross walk in front of the Village Market. Head east on Main Street and veer right onto Maple Street which loops around and meets back up with Main Street. Turn left on Main then right on Pleasant Street. Take the first left on Burk Hill Road and stay on Burk until you pass the school and then take another left on Grove Street which will bring you back to Main Street/Route 121 at the fire station, just before the one mile mark. Turn right on 121 and bear right onto Pleasant Valley Road. From Pleasant Valley take the first left onto Corey Hill Road and enjoy the dirt as you climb to the top of the hill and drop back down to 121 on the other side of the hill. At 121 take another left as you approach 2 miles. From there it is a straight shot back to Main Street. The three mile mark is at the post office on your way to the finish line at the cross walk in front of the Village Market. 
2019 Finish Line Photos on Facebook
2017 Finish Line Photos