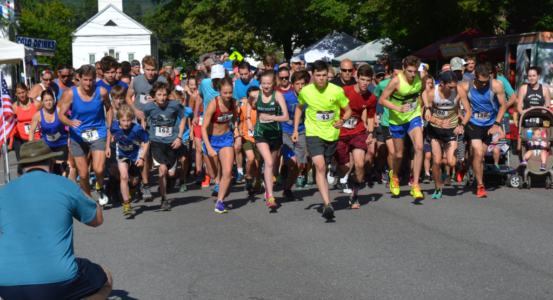 Preregistration is now closed. See you on race day.
Race Info
The race starts and finished on Main Street in Saxtons River where traffic is restricted for the Fourth of July celebration. However, the race quickly leaves Main Street and follows roads where there is traffic – and quite a bit of it with everyone arriving for the parade.. There is limited traffic control so please pay attention to traffic and run with caution.
The start time is 8:30 AM on Thursday, July 4, 2019.
You must be able to finish this race in under 1 hour. The parade starts at 9:30 AM.
Course Map
What does the race cost?
The race fee is $5. If you would like a Saxtons River 4th t-shirt, one can be purchased for an additional fee ($15 youth sizes, $20 adult) .
What are the prizes and age divisions?
Medals will be awarded to the first 3 male and female finishers in the following age divisions: 0 to 14, 15 to 18, 19 to 29, 30 to 39, 40 to 49, 50 to 59, 60 to 69, 70 and up
How do I register?
Help us be more efficient on race day by preregistering here.  You will just need to bring your $5 entry fee on race day as we are not accepting payment online. You may also register on Main Street in Saxtons River starting at 7 AM on July 4, 2019.
Who are the sponsors?
Support for the race is provided by Village Square Bookstore and Savings Bank of Walpole.
2019 Finish Line Photos on Facebook